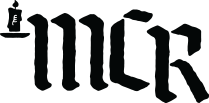 EXCLUSIVE MCR COLLECTIBLES & APPAREL INSPIRED BY THEIR ALBUMS
Join the Black Parade with exclusive My Chemical Romance collectibles, apparel, and gear celebrating their chart-topping albums in this limited edition 5-crate series! Each crate contains a complete Kidrobot Vinyl 5-Figure Set, a Plush, a Shirt, a Lanyard, and a Keychain.
SO LONG AND GOOD NIGHT
Celebrate My Chemical Romance's iconic albums and music videos with exclusive collectibles and apparel that you can't get anywhere else!
ORDER
Select your size and place your order for this original series
SHIP
Crates will ship to your door bimonthly, starting XX 2021
ENJOY
Unbox your crate and share your experience with the #MCRCrate community
FREQUENTLY ASKED QUESTIONS
IS THIS A RECURRING SUBSCRIPTION?
My Chemical Romance Limited Edition Series is a one-time-only limited edition crate series. 1-crate plans are billed separately for each crate but do not repeat after that.
WHAT FORMS OF PAYMENT DO YOU ACCEPT?
We accept Visa, Mastercard, American Express, Discover, Paypal and Amazon Pay (U.S. Only).
WHERE DO CRATES SHIP TO?
We ship to all U.S. or APO/FPO addresses. We also ship internationally to the following countries: Argentina, Australia, Austria, Belgium, Canada, Czech Republic, Denmark, Finland, France, Germany, Hungary, Iceland, Ireland, Israel, Italy, Japan, Luxembourg, Netherlands, New Zealand, Norway, Poland, Portugal, South Africa, South Korea, Spain, Switzerland, Turkey and United Kingdom.
HOW DO I CANCEL?
Cancelling is easy! Log into your account, click "Cancel" and then confirm your choice.